Relationship Goals Workbook for Recovering Folks
There really are only two main relationship goals;
Trust

Mutual Respect
Sounds simple but that's a tall order for anyone in recovery who has likely had a large share of unmet relationship goals!
That trust has to extend to your partner or the other person in a relationship of course but it also has to extend inwardly towards yourself which is even harder to achieve!
Self Trust and Self Respect are something you can do something about, thankfully!
"You Can't Unscrew Somebody"
Workbook Work Sheets
Our New Relationship Goals Workbook Tool examines the possibilities of going back through your life in an orderly manner and skimming through in an organized manner what your growing up experiences have been in the areas of:
Sex Education – how and where did you learn about sex and sexuality initially?
Origins and Beliefs – what were the basics of your origins , nationality, religious beliefs or non beliefs as a child or a young person?
Puberty – what were your unique experiences during puberty?
Virginity – what were your own ideals and levels of anxieties. also how did you feel about this Giant Issue that is not usually even discussed.
And that's just the first five pages….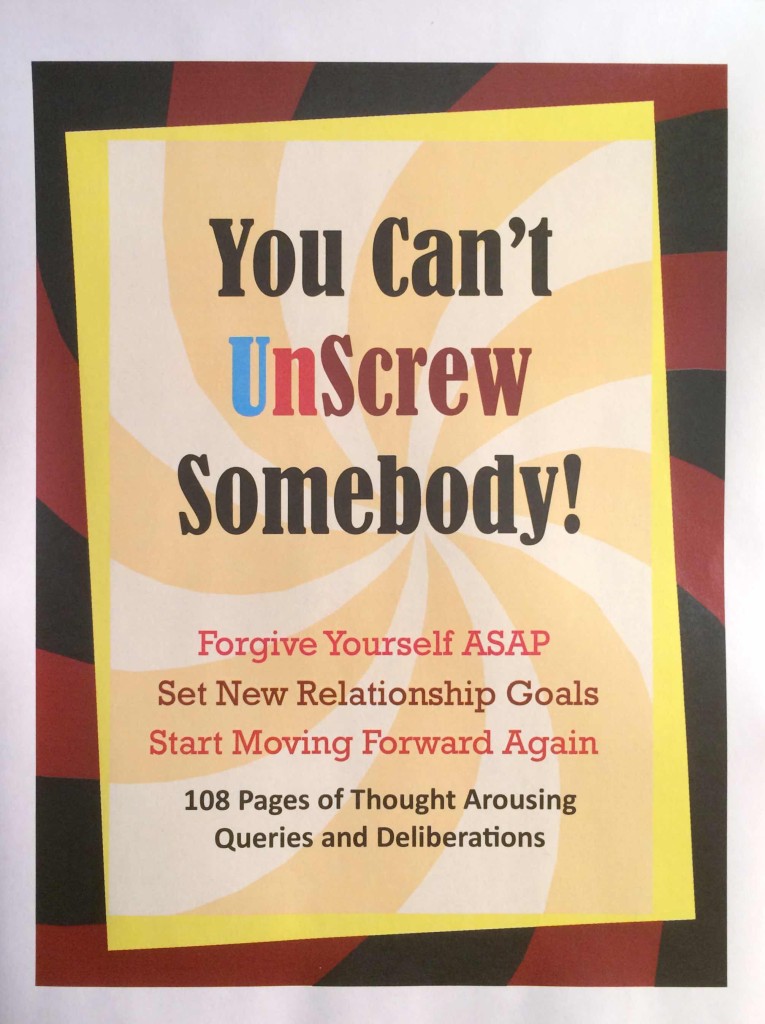 You Can't Unscrew Somebody
After you have gone through the workbook and know yourself better here are a few pointers  on setting good relationship goals:
Use the Fear
Let go of your fear about the future

Use the fear as energy to re-educate if necessary at least take a class in something to start to focus on the solution rather than  the problem
Use the fear as energy to get in better physical shape, take regular walks, get your heart rate up a little it will be healing and also be part of the solution rather than the problem
Resentments
Let go of the  resentful feelings that paralyze you

Jot all the resentments down as they surface so you do not forget what  you are angry about and repeat the same mistakes over again
Realize that you get new feelings every day if you want and you do not have to drag yesterday's broken feelings into a new day
Vent Appropriately – Don't Dump!
Have someone you can release the ugly feelings to and tell the thoughts you can't tell family and friends

There are lots of support groups that are available to people with bad relationships, find one and attend, if nothing else  you will meet people who have situations that are worse than yours and that will bring a sprig of reality to light.
Grieving is Good
Grieving is a necessary thing, the process needs to be acknowledged and can take a long time. Loss of a long term spouse can  take 5 years or more if done in a healthy way.
No Contact Guideline
Bring the memory of the relationship or marriage to a respectful conclusion

Learn to live and let live
Avoid unnecessary contact, especially in the sack
Pray for your ex whenever anger overwhelms you
Buy yourself a stick of daisies when you are sad, it  is cheaper than drugs and ten times as effective
Get a Makeover
Restore hope and zest for life

There are many ways to give yourself a forward look

Book a massage for a month down the road, there are massage schools around that will do them reasonably
Get a new haircut, buy some new undies that will suit your budget
Donate a few old clothes that  do not fit, take one item a day to goodwill if you cannot focus on more than that
Get involved with safe activities and avoid rebound relationships
Live an Action Plan
Develop an action plan for returning to the mainstream of life

Set a goal to improve one thing in your life per week
Clean up one area of your space per day, clean out one drawer, put one pile papers in order
Write a journal of your feelings as they come up so they do not pile up and overwhelm you
Avoid chemical or food medicating
Remember to See the Humour
Regain your sense of humor

That is a tough one, but learn to laugh at yourself
When All Else fails use Rule 62. ( Don't take yourself so seriously!)
Good Practices in Relationships
Agree on a set time to do something, rather than insisting on right now.
Use a low volume and soft tone, especially at the beginning of the conversation.
Avoid language that conveys disrespect and dislike.
Eliminate verbal attacks on character traits and habits.
Take a 20-minute break to calm down as needed.
Good Communication
Meet regularly for a short time frame in the AM to discuss daily plans
Take an evening walk together if you can.
Reconnect often during the day.
Schedule a weekly two-hour outing away from all the distractions
Make these new relationship rituals a habit.
New Relationships
Discuss your personal rituals and habits with each other.
Be willing to let some things go. Keep the parts of the relationship you like and let go of the rest. Let people be people. Control games are very easy to slip into and very unproductive.
Establish new rituals as your relationship goals mature.
---
The Dean of Addictionz
Working the Solution with Multiple and Addicts of all types
36 Years Personal Recovery Experience in several Self Help Programs

Addiction Recovery Outreach Trustee, NW Region Webmaster, Newsletter Editor and contributor for various Recovery Associations Publications

Published in several major recovery publications:  AA Grapevine, Al-Anon Forum, Overeaters Anonymous "Voices of Recovery" and "Lifeline", Gamblers Anonymous "Bulletin" &"Toastmaster" Magazine 

This AddictionZ.com website is featured in Melody Beattie's current "Codependent no More Workbook"

Over 45 years successful contracting business experience working with over 2000 employees and Penitentiary halfway house temporary staff.

Sponsoring many recovering multiple addicts with long-term good results

Recovery weekend workshop leader in Western Canada & US Pacific NW

Author "You Can't Unscrew Somebody Workbook" for relationship makeovers

Author "Sex Inventory Workbook" for sex issues
Author "Drunk Driving Workbook"  for safety
Author "Breaking The Cycle of Gambling Addiction" arrest the money drain!

Author "Breaking the Cycle of Compulsive Overeating" get healthy!
Here is a thought!
Why don't you book your sober recovery style vacation with us in beautiful downtown Victoria BC Canada at our Gingerbread Cottage Bed and Breakfast. Over the years we have had lots of therapists, recovering addicts and health professionals stay at our idyllic B&B steps from the Salish Sea. Oh and we have gourmet breakfasts too! Vanessa makes a fantastic Austrian Apple Strudel! see more on our B&B website…
Please leave your comments below, and I will be sure to answer them. If you want one of the publications but truly cannot afford it leave a comment with your email address and I'll send you a free one…
This website is about recovery – not making money – but it wouldn't hurt to pay a few web hosting charges if you  decided to visit one of the sponsors ads… I have kept outside ads to a minimum so it's not so frustrating to read. Hate those pages with an ad between every paragraph.
Have a great One Day at a Time! Dean 🙂